Cracking the Code on Ammonia in Maritime Shipping: Amogy's Fund Raise Changes the Game
Last year we published research highlighting innovation in green ammonia production, and predicting an oncoming demand pull for long-distance transport. By many accounts, the coming decade will be a critical period for providers of alternative shipping fuels and ship upgrades to prove out models that will set precedent.
In late March, we got one of our first signals that ammonia as an alternative shipping fuel is entering the mainstream conversation. Amogy closed a $139.2M Series B, the largest financing round in end applications of hydrogen or ammonia that Cleantech Group has recorded this year, and the largest in ammonia use that we've seen to date.
Amogy, who counts Amazon, SK Innovation, and Saudi Aramco as backers, has already demonstrated its ammonia cracking power packs on land through an ammonia-powered semi-truck and has announced plans to pilot a zero-emissions tugboat later this year.
We caught up with Maciek Lukawski, Head of Strategy & Business Development at Amogy, to hear what's inspiring the acceleration in confidence among corporate partners and investors, and what we can expect to see in coming years.
While smaller vehicles are starting to land on electrification as a dominant model, Lukawski categorizes maritime shipping as "inherently challenged" in decarbonizing. Shipping companies are coming under increasingly stringent regulations from the International Maritime Organization (IMO), while needing to decarbonize fleets of vessels that have a 20-30-year lifetime.
The urgency is becoming more apparent — Lukawski gave insight on over 100 ammonia-ready vessels already on the order books, citing cargo operators' motivation to leverage existing ammonia supply infrastructure:
A large, well-established network of ammonia suppliers are in operation today, producing over 200 million metric tons per year and making it the 2nd most-produced chemical in the world.


There are already 200 ammonia ports globally, where ammonia can be stored and transported today, versus a need to purpose-build infrastructure for other alternative fuels.


Know-how around shipping, transport, and handling of ammonia already exists – there is an existing availability of vessel crews trained to handle ammonia. Lukawski characterizes the situation as requiring only "a transition to using ammonia as a fuel, not cargo."
As a fuel, ammonia benefits from the economic stability of having multiple end markets: fertilizers, chemicals, and now applications in shipping fuels and energy (for either direct ammonia use or to be "cracked" and used as a source of hydrogen). The growing demand for green ammonia in multiple markets reduces technology switching risks for end users preparing to bring ammonia into their supply chains.
Generally speaking, the larger the end use application, the more beneficial ammonia is for it. Ammonia "cracking", the chemical process of splitting ammonia into its constituent components of hydrogen and nitrogen, and using the hydrogen as a fuel, allows users to leverage ammonia's transport efficiencies and hydrogen's fuel properties.
Amogy is shifting customers to ammonia users on the hypothesis that while hydrogen production costs are dropping, the combination of existing infrastructure and ease-of-storage allows for a smoother and more predictable integration into operations.
Until today, a key challenge of using ammonia as a fuel source was the need to have specialized ammonia combustion engines, or to have ammonia cracking facilities off-site that can transport hydrogen to ships.
Amogy has developed a modular ammonia cracking unit that is deployed on-board ships or on-road vehicles, and converts an ammonia input to hydrogen, where it is used in a fuel cell to generate electricity. Lukawski describes a situation that reduces trade-offs for cargo operators – Amogy's technology can be used in purpose-built new ships, or can be integrated into retrofits, a critical need for cargo operators under pressure to hit the IMO's goal of 40% carbon intensity reduction by 2030 and 70% by 2050 (from a 2008 base).
Amogy has spent the past year demonstrating its on-board ammonia cracking solutions in larger and larger vehicles.  The path so far includes:
Amogy's Series B will mean a significant step forward toward continued demonstration of the company's technology with high importance placed on maritime demonstrations, building to the launch of a commercial product in 2024.
We applaud Amogy for having the largest financing round in ammonia use that we've seen to date.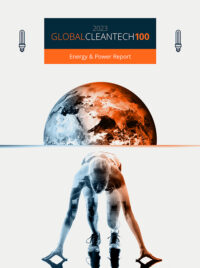 Who are the Leading Companies in Cleantech Energy & Power?