Scaling Advanced Air Mobility: Beyond Flying Cars and Drones
Earlier this year, electric vertical takeoff and landing (eVTOL) aircraft companies Archer, Joby Aviation and Lilium joined a host of other mobility companies going public via merger with a special purpose acquisition company (SPAC). Lilium received over $580 million in gross proceeds from the transaction, Archer received $857 million, including a $600 million PIPE deal, and Joby raised nearly $1.6 billion. These companies have armed themselves with war chests to build working aircraft prototypes, go through the lengthy type certification process and begin working towards the grand vision of advanced air mobility (AAM).
A grand vision – but where is the industry now?
The vision of thousands of unmanned eVTOL aircraft and unmanned aerial vehicles (UAV), otherwise known as drones, shuttling people and goods quickly and emissions-free within and between urban areas sounds enticing, so much so that Morgan Stanley estimates that the entire global AAM market will be worth $1 trillion by 2040. To get a piece of this market, investors have poured billions of dollars into eVTOL and UAV aircraft developers and platform companies like those mentioned above. However, many regulatory and infrastructure hurdles remain. Mainly, today's air traffic management (ATM) is not designed to safely manage increasing numbers and varying types of UAVs and eVTOLs completing different flight-missions at low altitudes through uncontrolled airspace. In addition, takeoff and landing infrastructure for the aircraft is minimal to nonexistent.
Air traffic management
Legacy ATM only manages commercial aircraft flying in Class A (18,000 ft to 29,000 ft) and Class B (up to 10,000 ft) airspace. Most UAVs operate in Class G airspace, which is an uncontrolled airspace (meaning it is unregulated by airspace regulatory bodies) between earth's surface to around 700 ft or 1,200 ft altitude (i.e. low altitude). Flights in Class G airspace can be conducted under Instrument Flight Rules (IFR) or Visual Flight Rules (VFR) without requiring ATM clearance. Flying beyond visual line of sight (BVLOS) is not allowed without special permissions, which are hard to come by. As the number of UAVs increases along with the number of commercial delivery operators and other licensed operators, the large-scale operation of UAVs without management creates conflict both in uncontrolled and controlled airspace.
Moving people with eVTOLs has similar challenges to overcome but will likely take a different path due to smaller aircraft volumes and initially piloted operations. Although eVTOLs are currently not used for mobility services, existing helicopter transportation services will be the near-term use case for eVTOLs, including medivac, tourism and destination transport services. In the near term, existing rules of the sky that helicopters abide by will also be used for eVTOLs. However, as urban air mobility (UAM) networks scale up, use cases and services expand, and more flights become autonomous, UAM will look more like UAV delivery networks.
Takeoff and landing infrastructure
For UAVs, novel takeoff and landing sites at warehouses and retail locations will need to be built out as well as delivery locations near customers to maximize safety and accessibility. In the near term, existing takeoff and landing space, such as urban heliports and airports, will be used for eVTOL operations.
A path to scale
Moving goods
UAVs are already delivering medical products, food and other goods commercially around the world (albeit in small numbers). In June, leading drone delivery company Zipline raised $250 million at a $2.75B valuation. The company provides medical product delivery in remote areas of Rwanda, Ghana and Nigeria and has delivery partnerships with Toyota Tshuou, Walmart and Pfizer. Zipline has completed over 50,000 commercial deliveries, surpassing 10 million miles of autonomous drone deliveries and 2 million vaccine doses distributed. In August, Alphabet's drone delivery service Wing reached the 100,000 delivery milestone.
Innovators that have already received permission for BVLOS operations are leading the charge and generating invaluable data and learnings to inform what large-scale operations might look like and what systems need to be in place to enable that. Innovative air traffic control is needed to determine where, when and how UAV would move around and enable large-scale operations through automated deconfliction, flight clearance and, in some cases, dedicated air corridors.
Moving people
Incumbent helicopter service providers are well-positioned to lead in the AAM sector due to access to existing infrastructure, experience operating aerial transport services and existing customer relationships. Blade, a provider of helicopter-based mobility services, has placed eVTOL aircraft at the center of their strategic future vision and are working with various aircraft manufacturers towards the target launch of eVTOL services in 2025. The company has placed purchased orders with aircraft manufacturers BETA Technologies, Embraer's Eve and Wisk that amount to more than 100 aircraft. In addition, Blade is working with Ross Aviation, a fixed base operator (FBO) to expand urban air mobility services to Ross Aviation's strategic locations. Bristow, a global vertical flight solutions provider for offshore oil & gas transportation and search and rescue, has placed an order of up to 100 eVTOL aircraft from Eve, and the two companies will work together to develop an air operator's certificate for Eve's aircraft.
The pathway towards high-density air taxi and shuttle networks will be much longer and depend heavily on optimal placement of takeoff and landing infrastructure. Access to the best locations that optimize between customer demand, electric infrastructure and access to air corridors will be a key strategic advantage.
Innovators
ANRA Technologies has developed a software that enables end-to-end automation for flight missions. With airspace management at its core, the software coordinates with the aircraft operator, hardware provider, delivery platform and airspace regulatory body to automatically generate and execute a flight path that is compliant with regulations and deconflicted with other airspace uses.
Alphabet's Wing has a similarly automated software stack, but Wing's offering is all-in-one and proprietary, meaning it can only be used with Wing drones and other Wing systems. Manna's airspace management system involves a dedicated flight path, i.e. the software blocks out one flight corridor that is regulatory compliant and can be used for multiple flight missions.
Skyports, a leading global vertiport developer based in the UK, has raised nearly $8 million from investors including Irelandia Aviation, Deutsche Bahn Digital Ventures, Groupe ADP and Levitate Capital. The company develops, sites, builds and operates infrastructure for drones and passenger eVTOLs and work with aircraft manufacturers or third-party operators to integrate aircraft operations. Skyports has partnerships with the Royal Mail, Embraer, Brent Cross and Volocopter as well as several other industry stakeholders.
Keep an eye on
Currently, airspace regulatory bodies around the world are still in the research and development phase of creating next-generation unmanned traffic management (UTM). A key milestone will be moving to implementation by developing a prototype UTM system (likely will be at airports) that will inform commercial operation. For takeoff and landing infrastructure, successful demonstration projects will be key to prove commercial viability of UAM services and direct funding towards infrastructure.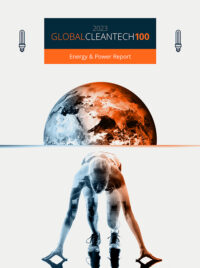 Who are the Leading Companies in Cleantech Transportation & Logistics?