The Evolution of Intelligent HVAC
Think of an intelligent HVAC system, or a smart HVAC, as the next generation of efficiency and optimization. These systems monitor and regulate temperature as well as humidity, carbon dioxide levels, and indoor air quality.  There are two general end markets for intelligent HVAC solutions:
Newer buildings that have building management systems (BMS)
Older buildings that do not have BMS
Why is Smart HVAC Crucial in Buildings?
Intelligent HVAC significantly reduces energy costs and optimizes HVAC system function in accordance with external conditions such as temperature, occupancy, and building use.  Sensors connect individual HVAC devices, allowing for the optimal use of systems, for example, heating only occupied rooms or increasing ventilation in building areas with high foot traffic.  Other software solutions plug directly into the existing BMS to allow for both optimization and predictive capacity.
BMS Optimization Solutions
A recent article titled "Intelligent HVAC in a Warming World," details the main categories of Intelligent HVAC technologies and describes some of the more interesting innovators doing work in these areas.
Most BMS are expensive to install and are static—unable to adapt to shifting external conditions. Innovators are developing flexible software solutions that can be layered onto existing BMS, optimizing HVAC and energy use, and allowing the system to adapt to changing conditions.  
In a crowded field, there are several significant points of differentiation between BMS optimization software innovators.  While most innovators with effective technologies are able to provide an average of 20% energy savings to clients, the length of time for the optimization process to begin varies significantly.
One of the shorter optimization periods comes from Germany-based digital twin innovator DABBEL, promising visible improvements in performance by four weeks.  Additionally, most innovator technologies offer data collection and retroactive analysis to improve performance.  Innovators with technology that allow for predictive and proactive optimization offer both improved savings but, most likely, proprietary data models.
Non-BMS Solutions
The installation of BMS is not generally a cost-effective solution for HVAC optimization in older buildings (particularly if they are small-to-medium sized). They face different challenges and, therefore, require different solutions to buildings with BMS.
Solutions for such buildings include retrofitting HVAC systems to allow for optimization and automation at the device level.  Innovators install hardware such as connectivity-enabled sensors that require minimal maintenance while providing subscription-based SaaS.  Innovators that stand out in this field offer easy-to use and install solutions that are effective even in low-tech environments (limited internet coverage, minimal access or use of computers).
Ventilation
COVID-19 spurred a demand for effective intelligent ventilation solutions, particularly in sectors such as healthcare and higher education.  Air quality innovators are developing various solutions including nature-based (e.g., Origen Air) as well as air quality intelligence and analytics (e.g., Aircuity), tailored to the specific requirements of healthcare (e.g., LifeAire), laboratory, and commercial or residential spaces. 
Origen Air is a developer of smart, living air purification modules which removes carcinogens and airborne coronavirus with plants.


Aircuity is a smart airside efficiency company providing building owners with sustained energy savings through its intelligent measurement solutions. By combining real-time sensing and continuous analysis of indoor environments through demand-side ventilation, the company has helped commercial, institutional and lab building owners improve efficiency and increase savings.


LifeAire is a developer of air purification technology for the health and medical industries with building occupant air security applications.
Looking Forward: The Evolution of Intelligent HVAC
The smart HVAC market faces several notable challenges:
The building and real estate industries are particularly innovation-averse and slow to trust or adopt new technologies. Proof of cost or energy savings is not always sufficient to bring on new clients.


Widespread adoption of BMS optimization software is limited by the lock-in effect from incumbent BMS integrators.


Software solutions have a low barrier to entry and low switching costs— customers can easily change to a different software provider that offers greater optimization and cost savings.


HVAC connectivity and smart component solutions can require costly installation and configuration.
As more innovators enter the market and intelligent HVAC technologies become commoditized, innovators will need to develop differentiated core competencies to stand out from the crowd. Partnerships with OEMs will be critical for innovators to break into industries that are conventionally slow to adopt new technologies, for example real estate, where large portfolio owners are keen to pursue energy cost-saving strategies.
While the current focus of intelligent HVAC is the optimization of existing building infrastructure, BMS, and full-building orchestration, smart component technology may be the future of HVAC optimization solutions.  Innovators such as Turntide Technologies are developing smart replacements for energy-intensive components of devices (i.e., motors).
With networking and connectivity capacity, smart components hollow out energy use, with the potential for over 50% building energy savings and application in sectors well beyond HVAC and the built environment.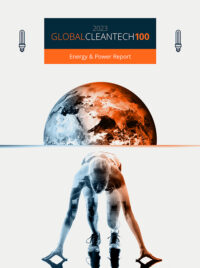 Who are the Leading Companies in Cleantech Energy & Power?