Energy Disaggregation and NILM – If You Can Measure It, You Can Improve It
Attractiveness
NILM's real-time appliance-level monitoring of energy consumption is extremely beneficial for energy efficiency and demand response. It provides more agile grid management that's  significantly favorable for the integration of more renewable energy which is under fast development and adoption.
Demand from Utilities: Retail electricity suppliers are looking for innovative approaches to improve customer engagement in order to differentiate in the competitive deregulated retail markets. In addition, NILM can even create new revenue streams based on consumer needs which can be further deduced from their consumption behavior. Clearly, NILM is an optimal solution for this purpose, hence the demand from retail suppliers keeps increasing. On the other hand, utilities also regard NILM as a good solution for demand management since NILM helps utilities to gain real-time granular consumption data and to conduct load-shaping actions such as customizing TOU rates for each consumer based on collected consumption behaviors, resulting in a rising demand of NILM as well.
Demand from Commercial and Industrial (C&I) Consumers: C&I consumers need tools to help them not only optimize their energy assets to achieve energy savings but also detect potential equipment malfunction before further deterioration causes more significant issues.
Demand from Residential Consumers: Increasing adoption rate of EVs and solar PV demonstrates a rising number of energy-active "prosumers" who request granular and instant information about their energy consumption and generation in order to optimize their own energy utilization
General Business Models
Currently, there is a mix of either sensor-based or SaaS products to deliver real-time and granular consumption monitoring service and more new value-added services based on analysis of consumption data.  Options include:
B2B2C for Utility: Services mainly delivered by white-label products or API to help utilities improve consumer engagement. Key value-added services include marketspace for consumers to buy new energy-efficient appliances, energy infrastructure plans (ex: EV charging station), TOU tariff design and home-automation for load-shaping
B2C for Industrial: Services provided in the plug-and-play manner or paired with existing submeters. Key value-added services include load optimization for energy savings, predictive maintenance and dysfunction detection for appliances and equipment
B2C for Commercial and Residential: Plug-and-play service. Key value-added services are load-shaping recommendations for energy savings and home-automation
New Data-Driven Business Model
Mainstream: The following business models have been applied by multiple companies.
Marketplace: One option for consumers is to identify the energy-inefficient appliances with quantitative monetary loss assessments using AI. In this approach, the energy consumption rate is benchmarked with other appliances and consumers are then connected to an online marketplace to purchase energy-efficient appliances for replacement to achieve more longer-term energy savings. Another model is to identify consumers suitable for using solar PV or storage system according to their energy consumption pattern and directing them to an online marketplace with PV and storage system purchase and installation options.
Household Insurance: Providing household insurance policies, such as fire, with an optimized price which better reflects potential risks to the household based on individual risk behavior learned from granular energy consumption data
Home Automation: With the understanding of real-time energy consumption status at the appliance-level, home-automation can directly adjust operations of each appliance to optimize energy management for savings without even bothering consumers. Currently this service focuses on intensive loads like HVAC.
Pioneers
These options include innovative business models currently being offered by very few or even just one firm each.
P2P Blockchain Electricity Trading: Connects prosumers with the current grid for peer-to-peer trading to optimize energy utilization and minimize energy waste based on the capability of granular and real-time energy consumption monitoring.
Smart Meter Alternative: Reduces sensor cost and significantly simplifies the installation process to the extent sensors can be installed on any type of panel regardless of the different panel layout structure across regions and building types. This results in a competitive and strong sensor product able to replace current smart meters in the AMI market.
Embedding AI-algorithm into IoT device: Interprets consumers' preferences based on energy consumption behavior to help device manufacturers gain firsthand insight on consumer preference and product performance.
Application in other Energy-Sensitive User Case: Real-time monitoring refrigerators in long-distance food maritime shipment to improve both energy efficiency for the ship and reduce food waste in delivery.
Competition and Challenges
U.S. Market: The utility segment is more of a consolidated market now in which Uplight, Bidglely and Innowatts are the key players; C&I and residential markets are still segmented. Regarding sensor-based technology side, Sense is well positioned to be a leading company in the future based on  investment and partnership with Schneider Electric and Landis+Gyr.
EU Market: The market is immature compared to the U.S. Portugal has potential to be the hottest market for the business currently according to our analysis taking several market indexes into consideration.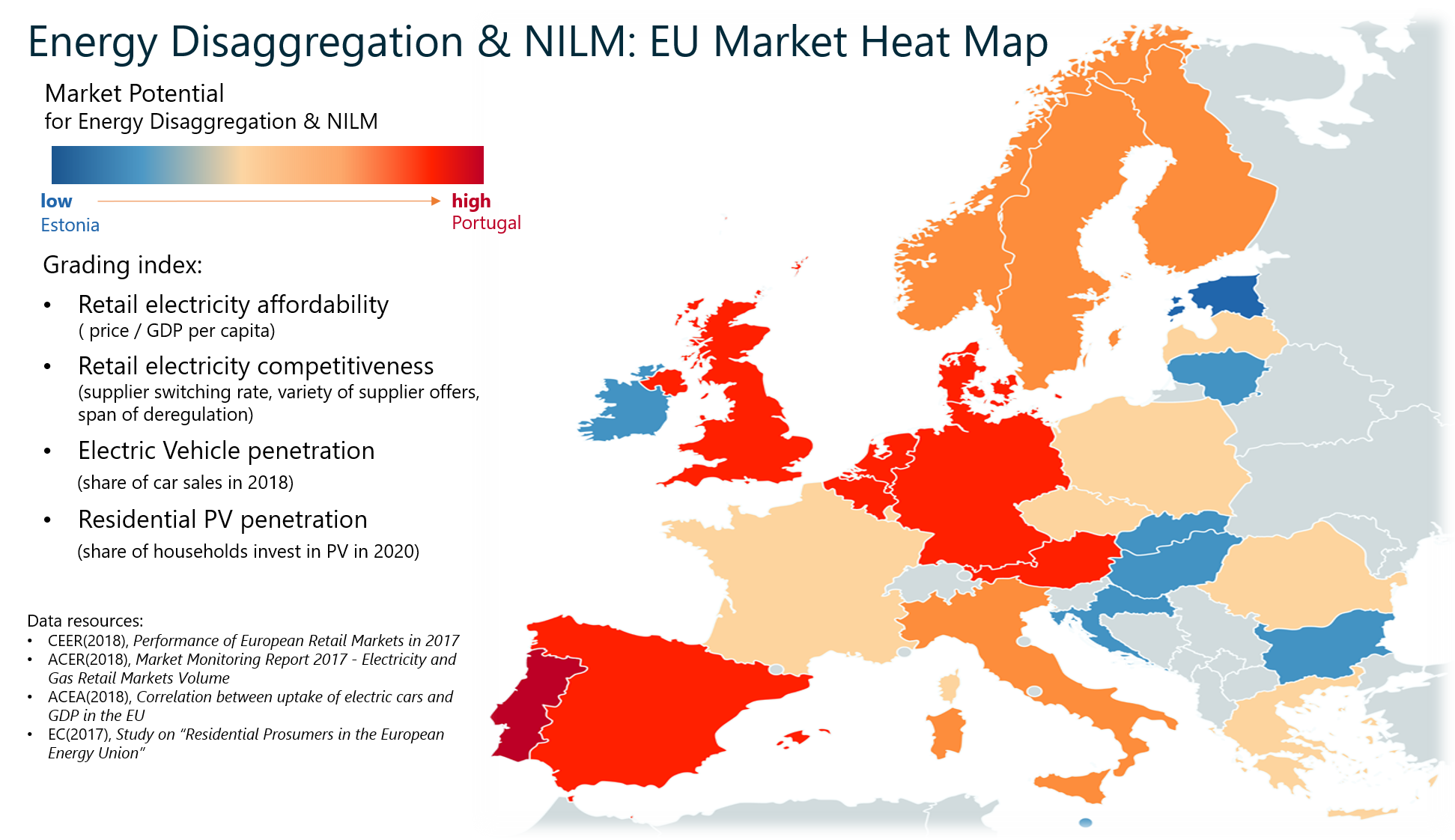 Sustainable New Data-Driven Business Model: Companies are exploring various ways to sustainably create profit from data collected by this technology, but most applications are still in trial or pilot project stage without any proven dominant model emerging yet.
Data protection: As consumers and governments take data privacy and cybersecurity more seriously, companies need to be cautious with the way they utilize consumers' data, especially when it includes commercial activities.
Looking for more insight on the rapidly-evolving energy sector?  Cleantech Forum San Francisco brings together the innovators, investors and corporate change makers focused on sustainable transformation.