The Role of Hydrogen in Decarbonizing the UK Economy
Hydrogen is one of a handful of new, low carbon solutions which will be crucial for the deep decarbonization of the UK economy, particularly in 'hard to electrify' UK industrial sectors, and to provide greener, flexible energy across power, heat and transport including shipping and aviation. The government has published the first ever UK Hydrogen Strategy, alongside key policy detail on its support for low carbon hydrogen production across the UK. With this package we are building on the Prime Minister's announcement in his Ten Point Plan for a Green Industrial Revolution last year of the government's ambition for 5GW low carbon hydrogen production capacity by 2030 and laying the foundations for a hydrogen economy by 2030, setting out how government will support innovation and stimulate investment in low carbon hydrogen in the 2020s to scale up low carbon hydrogen. The Government's £1 billion Net Zero Innovation Portfolio will work to support the department's hydrogen goals in the coming years. Significant steps were taken to establish hydrogen business models and a £240m Net Zero Hydrogen Fund that will boost deployment.
Opportunities and progress
The innovation opportunities with hydrogen are numerous and we intend to test, develop and deploy new hydrogen technologies across the UK in the years ahead. The NZIP low carbon Hydrogen Supply 2 competition is now at bid assessment stage after attracting a high level of interest. We hope it will follow in the steps of our first such competition and support varied projects including a number of demonstrations with significant technological and investment interest. We will continue to support hydrogen end-use innovation too, with targeted support for Industrial Fuel Switching and broader activity such as on skills and technical standards. 
Our end-use support builds on our Hy4heat programme. This has been conducting work over the last four years to test the technical possibilities of using hydrogen for heating as an alternative to natural gas, a potential option which is being considered and which will be trialled in the years ahead. Hy4Heat is developing and testing a wide range of domestic and commercial hydrogen appliances, including hydrogen fuelled boilers, cookers and fires along with meters. I am pleased to say positive technical progress has been made on these wide range of appliances that can use 100% hydrogen fuel safely and efficiently. To demonstrate the achievements of this work the programme partially funded a hydrogen fuelled show home in collaboration with Northern Gas Networks. Situated in Low Thornley, the Hydrogen Home contains appliances from the program using 100% hydrogen fuel including boilers, cookers and fires, exhibiting these in a realistic domestic setting.
Hy4Heat also supported the development of skills specifications and technical standards to enable the safe use and operation of hydrogen appliances in the home.  The program commissioned a wide range of service providers to conduct work, which has included research studies into hydrogen quality standards, competency frameworks for gas engineers working with hydrogen and technical reference standards for hydrogen installation and utilization in premises. This work is an important contribution to the evidence base around the potential for hydrogen for heat. A Hy4Heat safety assessment assessed the use and safety of hydrogen in certain types of domestic properties and buildings and has been independently reviewed by the Health and Safety Executive, who have written a letter of assistance to BEIS confirming its relevance to gas network operator future duty holders for trials. Back in 2017, we were uncertain as to whether domestic hydrogen appliances would be technically viable and so I'm proud to now be able to show off several prototype models. We will be presenting the Hy4Heat programme's technology virtually and in person at demonstration events, such as Climate Action Innovation Zone and hope you will come and see our stand for yourself. In my view, the program has shown that Government and industry can collaborate effectively, and can drive forward innovation and assemble evidence that can inform clean energy policy-making. If you are interested to learn more about Hy4heat's work on heating with hydrogen please visit the website at:
Our programme also supported The Institution of Gas Engineers and Managers in the creation of an online hydrogen knowledge Centre, which acts as vast digital repository sharing key hydrogen knowledge and resources across the globe.
Dr Mark Taylor is a BEIS Deputy Director managing the hydrogen, industry, bioenergy and carbon removals themes of the £1bn Net Zero Innovation Portfolio, which aims to accelerate the commercialisation of innovative clean energy technologies and processes through the 2020s and 2030s.
Please visit www.gov.uk/government/collections/net-zero-innovation-portfolio  for additional information.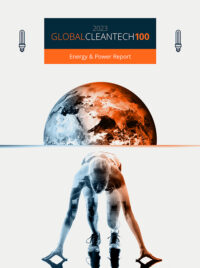 Who are the Leading Companies in Cleantech Energy & Power?